Bring your group on a guided tour of the American Victory Ship and Museum, an American icon, national treasure, and one of the only three fully operational cargo vessels in the country. Your group will walk the decks just like sailors, soldiers and airmen did during the WWII, Korean and Vietnam wars.
Tours Geared Just for Kids
Tours are always age appropriate! Adults will be in awe of the impressive and honorable history of the vessel, learning facts and details from yesteryear to today. Children will learn about core values and characteristics exemplified by our nation's military such as dignity, respect, freedom, selflessness, sacrifice, teamwork, and dedication.
Youths revel in the thrill of being aboard, ringing bells, climbing on guns, and experiencing the visit of a lifetime – all with fun.
The tour supports the Sunshine State Standards by teaching students about historical storytelling, World War II history, Florida history, and working with primary sources.
Join us and relive history!
Adults: $8
Cost: $4 per student (ages 12 and under)
Cost: $6 per student (ages 13-18)

For school groups, one chaperone per every 10 students is admitted free of charge. There is an $8 charge per chaperone thereafter.
Kids can commemorate their visit by purchasing custom made dog tags while they wait! They'll receive 2 dog tags, 2 silencers and a chain for just $5 (regularly $10). Be sure to ask for our dog tag form before visiting.
**Teachers are encouraged to create pre and post field trip lessons surrounding history.
Field Trips must be booked in advance. Call us at 813-228-8766 or fill out our Field Trip form by clicking the button below.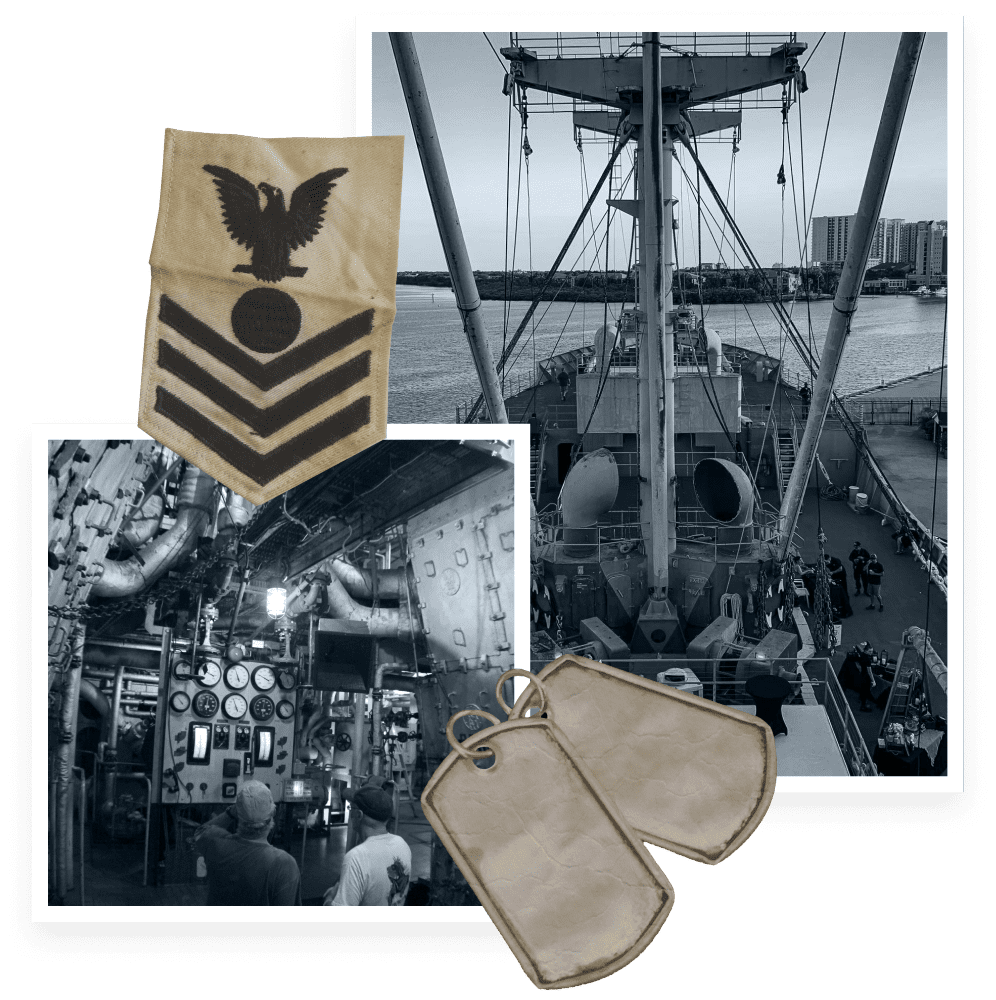 Regardless of the age of your group, you will experience an unforgettable voyage of discovery by visiting:
Cavernous Three-level
Cargo Holds
Radio and Gyro Rooms
Hospital
Galley
Weaponry
Steering Stations
Flying Bridge
Signaling Equipment
Wheelhouse
Mess Halls
Crew Cabins
Lifeboats
Captain's Quarters
Cargo Equipment
Engine
Enjoy rare artifacts, exciting exhibits, uniforms, medals, documents and photographs. It's all right here throughout nine decks and our 455'x109′ cargo vessel.