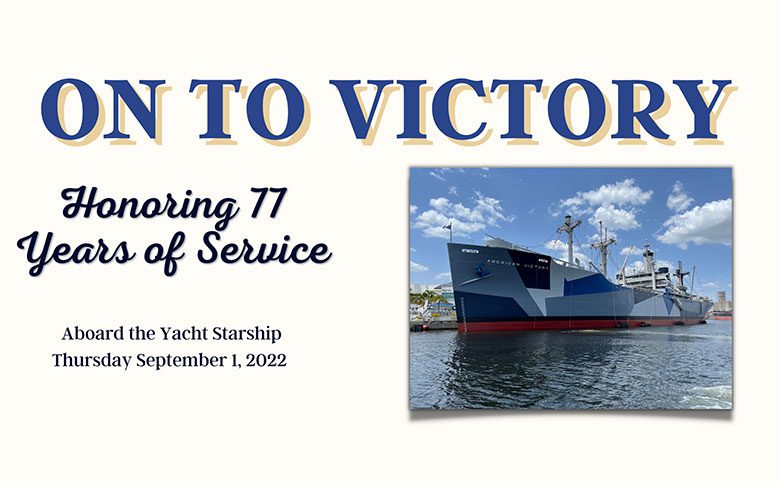 Join us for our second annual unforgettable cruise aboard the Yacht Starship in support of the WWII Steamship American Victory.
Date and Time
Thu, September 1, 2022
5:30 PM – 8:30 PM EDT
Location
Yacht Starship
603 Channelside Drive
Tampa, FL 33602
Aboard the Yacht Starship:
4:30pm: Early VIP/Sponsor Boarding
5:30pm: General Boarding and Reception
6pm: Underway; Opening Remarks and Ceremonies; Seated Dinner
7pm: Keynote Speaker Remarks; Traditional Military Ceremonies
8pm: Disembark
Event includes open bar, seated dinner, and entertainment.
Interested in sponsoring this event? Various levels of support are still available! Please visit our website for details.
For more details about the Yacht Starship, visit yachtstarship.com
Keynote Speaker: James H. Smith
James H. Smith, a member of the Senior Executive Service, is the Acquisition Executive, U.S. Special Operations Command, MacDill Air Force Base, Florida. He is responsible for all special operations forces acquisition, technology and logistics.
About the American Victory Ship
The SS American Victory was launched during WWII, continued her service through Korea and Vietnam, and still serves today. At her home berth in the Port of Tampa, the American Victory Ship is dedicated to community service, open everyday to the public for tours, and hosts private events and youth educational programs throughout the year. Join us in support of this 501c3 nonprofit organization as the ship prepares to steam again!